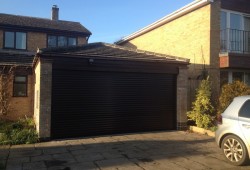 Another happy customer
Hi Simon & Marie, plus everyone else at Cherwell Doors,
You told me that your men would arrive at about 8.30am and they were ringing the door bell at precisely 8.30.
Steve & Toby are a credit to your company, they just got on with removing the old door and fitting the replacement. I was amazed when they said that they would be finished at about 1.00pm, they actually completed the work 5 minutes early. They cleaned up the garage, removed the old door and fittings, showed us how to operate the door and away they went.
If anyone locally is thinking of having a similar door, you can send them to see ours with pleasure.